ETHICAL BREW is a live music venue located in Teaneck, NJ, dedicated to serving up a quality blend of folk & indie performers in an intimate and welcoming environment.
Ethical Brew is an all volunteer organization. Fifty percent of the proceeds from each show are allocated to funding worthy social action projects and charities that reflect the humanist values of the Ethical Culture Society of Bergen County chosen by the Artist. The remaining 50% helps directly fund initiatives of the Ethical Culture Society.
Past beneficiaries include WhyHunger, Edeyo Foundation (Haiti), Heifer International, Bergen County Sanctuary Committee, Ramapo-Bergen Animal Sanctuary, Doctors Without Borders, Earthjustice
Ticket links additional artist info coming soon…

New At The Brew…

We're proud to announce these great performers for our upcoming season.
Oct 3rd 2015     Mike Agranoff / John Forster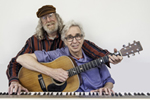 Coffeehouse of the Absurd is an evening of intelligent and satiric comedy featuring Mike Agranoff and John Forster.
Nov 21st  2015
Gathering Time – special guest opening act: Ron Renninger

Feb 13th 2016  Pat Wictor

Mar 12th 2016 Joe Crookston
Additional shows and opening acts TBA
---
Some of our past performers: